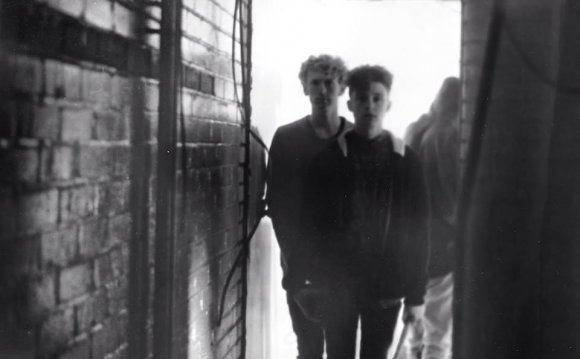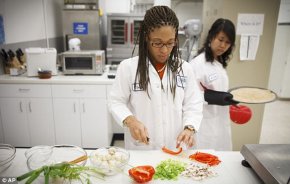 Cutting edge food science: The astronauts menus will include tofu bacon, scrambled eggs, caramel cake, lemon cake, french fries and peanut butter cookies
Fresh ingredients: On Mars astronauts will be able to have their own greenhouse to prepare vegetables. Scientists at NASA's Advanced Food Technology Project try a pizza recipe being tested in a kitchen at Johnson Space Center
It will likely take six months to get to the Red Planet, astronauts will have to stay there 18 months and then it will take another six months to return to Earth.
Much of the food will be canned and freeze-dried - classic 'space food'. But some of the fatty treats enjoyed by the astronauts will be created in greenhouses when they arrive on the planet - grown in liquids, rather than soil to save space and increase growth.
'They actually use a hydroponic system, they grow the food sort of on shelf-like infrastructure and it has a nutrient solution, so the roots are actually based in a nutrient solution rather than soil, ' says Cooper. 'That's done now here in the U.S.'
Cooper's menus sound calculated to ensure the astronauts don't go undernourished.
'A typical breakfast menu for our greenhouse system would include pancakes. There's a tofu bacon recipe, where you have tofu and you're able to make a bacon substitute. Scrambled eggs are also on the menu.
'For lunch, they could potentially have a marinated tomato salad accompanied by, perhaps, a soup, sweet potato fries. And then, for dinner, tofu mushroom stroganoff accompanied by a spinach bread and a nice dessert, such as a spice caramel coffee cake or a ultimate lemon cake, et cetera.
'As we were looking at the food items on the menu, we were very conscious to choose foods that we would consider comfort foods at home. So there's a garlic mashed potatoes on the menu. There is a French fry item on the menu. There's a peanut butter cookie.'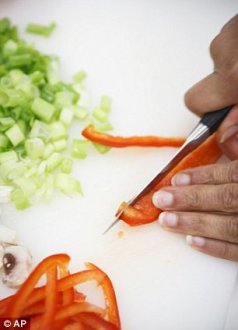 We didn't want everything on the menu to be so foreign that it would intensify any feelings of alienation that they may experience while they're on Mars.
Lockheed Martin associate research scientist Monica Leong, bakes a vegan pizza from a recipe developed for a mission to Mars
'Mars is different just because it's so far away, ' said Maya Cooper, senior research scientist with Lockheed Martin who is leading the efforts to build the menu. 'We don't have the option to send a vehicle every six months and send more food as we do for International Space Station.'
Astronauts who travel to the space station have a wide variety of food available to them, some 100 or so different options including ice cream.
But it is all pre-prepared and freeze-dried with a shelf life of at least two years. And while astronauts make up a panel that tastes the food and gives it a final OK on Earth before it blasts off, the lack of gravity means smell - and taste - is impaired. So the food is bland.
On Mars though, there is a little gravity, allowing NASA to consider significant changes to the current space menu. That's where Cooper's team comes in. Travel to Mars opens the possibility that astronauts can do things like chop vegetables and do a little cooking of their own. Even though pressure levels are different than on Earth, scientists think it will be possible to boil water with a pressure cooker, too.
Lockeed Martin research scientist Maya Cooper, left, and Monica Leong, right, prepare a vegan pizza
THE HISTORY OF SPACE FOOD

The first man in space Yuri Gagarin ate pureed meat from toothpaste tubes as he orbited the Earth in 1961.
When Americans followed the Russians into space they quickly developed freeze dried foods for the Project Mercury missions.
However astronauts found the offerings unappetizing and hard to rehydrate.
By the time of the Gemini missions in 1965-6 the flavours had improved and the menu included shrimp cocktail, chicken and vegetables and butterscotch pudding.
Astronauts now make up a panel that tastes the food and gives it a final OK on Earth before it blasts off.
However the lack of gravity means smell - and taste - is impaired. So the food is bland.
One option Cooper and her staff in the Johnson Space Center in Houston are considering is having the astronauts care for a 'Martian greenhouse'.
They would have a variety of fruits and vegetables - from carrots to bell peppers - in a hydroponic solution, meaning they would be planted in mineral-laced water instead of soil.
The astronauts would care for their garden and then use those ingredients, combined with others, such as nuts and spices brought from Earth, to prepare their meals.
'That menu is favorable because it allows the astronauts to actually have live plants that are growing, you have optimum nutrient delivery with fresh fruits and vegetables, and it actually allows them to have freedom of choice when they're actually cooking the menus because the food isn't already pre-prepared into a particular recipe, ' Cooper said.
The top priority is to ensure that the astronauts get the proper amount of nutrients, calories and minerals to maintain their physical health and performance for the life of the mission, Cooper said.
The menu must also ensure the psychological health of the astronauts, Cooper explained, noting studies have shown that eating certain foods - such as meatloaf and mashed potatoes or turkey on Thanksgiving - improve people's mood and give them satisfaction.
The scientist hope the astronauts will be able to cook during their 18-month stay on Mars
That 'link to home' will be key for astronauts on the Mars mission, and there are currently two academic studies looking further into the connection between mood and food. Lacking certain vitamins or minerals can also harm the brain, she said.
Jerry Linenger, a retired astronaut who spent 132 days on the Russian Mir space station in 1997, said food is important for morale and the monotony of eating the same thing day after day is difficult.
'You just wanted something different. I didn't care if it was something I wouldn't eat in a million years on Earth. If it was different, I would eat it, ' Linenger said, recalling with a laugh how he would even drink up a Russian sour milk-like concoction for breakfast or drink up some borscht because it offered variety.
Already, Cooper's team of three has come up with about 100 recipes, all vegetarian because the astronauts will not have dairy or meat products available. It isn't possible to preserve those products long enough to take to Mars - and bringing a cow on the mission is not an option, Cooper jokes.
Source: www.dailymail.co.uk
RELATED VIDEO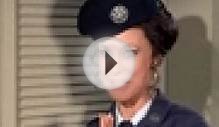 Nobody Loves a Fat Astronaut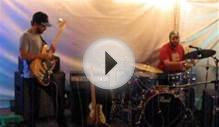 Fat Astronaut (Daniel Say Something) - Wonder Come ...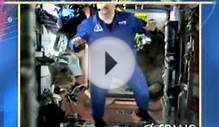 NASA Tests Effects Of Space On Fat Astronaut
Share this Post