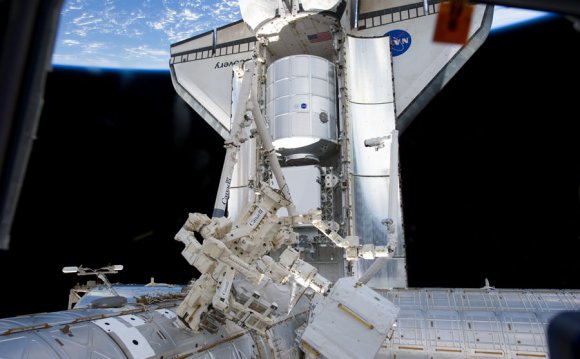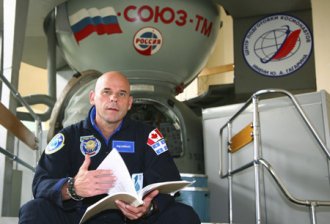 Canadian Astronauts:
In the following table, clicking on the astronaut's name will take you to their biography page.
Their missions:
In the following table, clicking on the mission name will take you to that Canadian Space Agency mission page.
Clicking on the vehicle name will take you to that NASA mission page.
Other Canadians in Space:
Soyuz TMA-16
Guy Laliberte From the Canadian Space Agency:
"Dextre is a sophisticated two-armed robot, part of Canada's contribution to the International Space Station. Canadarm2, a moveable work platform called the mobile base, and Dextre form the Mobile Servicing System. These three robotic elements can work together or independently.
An essential, versatile tool for servicing the Station, Dextre can remove and replace small components on the Station's exterior that require precise handling. It is equipped with specialized grippers, built-in socket wrenches, four robotic tools, video equipment, lights, umbilical connectors to provide power and data connectivity, and a stowage platform."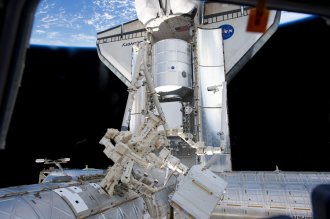 Canadian Robotics in space:
The March 1, 2011 Astronomy Picture of the Day showed, for the first time together that I can remember, 3 of the many significant contributions that Canada has made to the Space Shuttles and the International Space Station. In the photo are: The Canadarm on the space shuttle Discovery on the right, the Canadarm2 on the ISS on the left, and Dextre in the centre foreground. They appear to be working in unison, in the midst of unloading cargo from Discovery.
Canadarms have flown on Space Shuttles since 1981. Canadarm2 was launched with Mission STS-100 and attached to the ISS in 2001. Dextre was launched with Mission STS-123, and attached to the ISS in 2008.
Three Russians, an Italian and two Americans were already at the ISS when the six crew members of Discovery arrived, making a total of 12 astronauts on board.
Additionally, the International aspect of the Space Station was prominent with the US shuttle Discovery, a Russian Soyuz space capsule, the Japanese HTV (H-II Transfer Vehicle) supply ship, the European ATV (Automated Transfer Vehicle) Johannes Kepler supply ship, and the Canadian Dextre robot are all parked at the orbiting research lab at the same time.
Source: calgary.rasc.ca
Share this Post