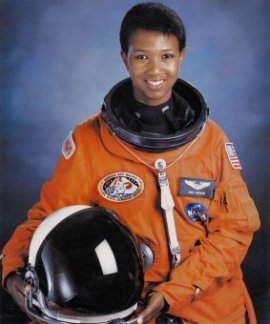 Mae Jemison is, quite simply, one of the most impressive people that you will ever encounter.
She is a physician, Peace Corps volunteer, teacher, actress, astronaut, accomplished dancer, and founder of two technology companies. She went to Stanford University when she was just 16 years-old, and she earned her doctorate in medicine from Cornell University when she was just 25.
In less than a quarter of a century, she accomplished more than many people do over the course of their entire lives.
But her list of accomplishments doesn't stop with the aforementioned. She speaks four languages: English, Russian, Japanese, and Swahili, and she has two honorary doctorates.
One of her most notable accomplishments (certainly, the one that places her high on my list of "scientists to remember) came in 1987. At the age of 31, she became one of the fifteen candidates selected out of more than 2, 000 people for NASA's astronaut program.
Then, in September of 1992, Jemison served as the science mission specialist on STS-47 Spacelab-J, becoming the first woman of color in space. Ultimately, STS-47 was a cooperative mission that was forged between the United States and Japan. During her eight-day mission in space, Jemison went around the Earth 127 times. At the completion of her first space flight, Jemison logged 190 hours, 30 minutes, and 23 seconds in space.
In her interview, Jemison asserts that she didn't really think about accomplishing any great "firsts" in her life. She just wanted to visit the stars. She asserts, "I didn't even think about whether I'd be the first African-American woman in space… I just wanted to go into space."
That said, Jemison notes that being both a minority and a woman came with its fair share of adversity, noting that majoring in engineering as a black woman wasn't always easy.
In a 2000 piece published by the New York Times, she states, "Some professors would just pretend I wasn't there. I would ask a question and a professor would act as if it was just so dumb, the dumbest question he had ever heard. Then, when a white guy would ask the same question, the professor would say, 'That's a very astute observation.' …Race is always an issue in the United States. You always run into people who aren't comfortable with you. But we all — the way people look, whether or not they're heavyset, for example, influences us. Anyone who says he isn't influenced by race is lying."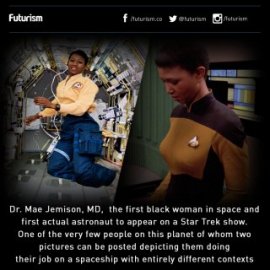 However, at the Annual Biomedical Research Conference for Minority Students in 2009, she summed up how to respond to such experiences rather eloquently: "Never be limited by other people's limited imaginations…If you adopt their attitudes, then the possibility won't exist because you'll have already shut it out … You can hear other people's wisdom, but you've got to re-evaluate the world for yourself."
Listen to Jemison describe her experiences in the video below:
Jemison left NASA in 1993, but she certainly didn't enter retirement.
In 1993, Jemison became the first actual astronaut to appear on Star Trek. LeVar Burton, who played Geordi La Forge on Star Trek: The Next Generation, learned that Jemison was a Star Trek fan and asked if she would like to be on the show. She ultimately played Lieutenant Palmer in the episode "Second Chances, " which was the 150th episode of the series.
In 1994, she founded The Earth We Share (TEWS), an annual international science camp where for students aged 12 to 16. The goal of the program is to create a generation of young people who are invested in science and how it can be applied to make our world a better place. To this day, Jemison continues to work towards increasing scientific literacy and bringing the scientist in all of us to light.
Source: futurism.com
Share this Post