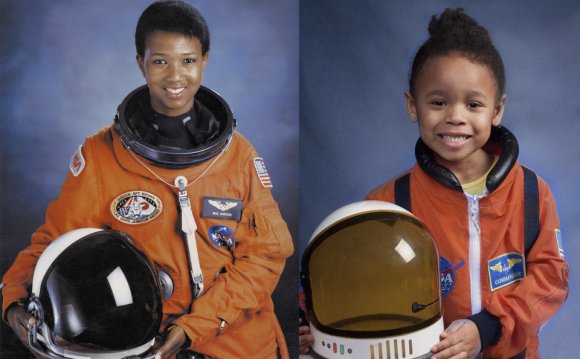 There aren't many people out there who make rocket science look easy. Somehow, Dr. Mae Jemison has done it for almost 30 years with grace and style.
Jemison's claim to fame is being the first African-American woman to enter space during her trip on the Endeavor in 1992. However, her life had an ordinary start in 1956 when she was born in Decatur, Alabama. The future scientist was later raised in Chicago, alongside her brother and sister, so her blue-collar family could take advantage of better educational opportunities. Jemison's relatives always included her on difficult, adult conversations even when she was a young child.
"Never was I not allowed to be included in the conversation, " Jemison said in a MAKERS interview when reflecting on her upbringing. "It was always a part of what we do and what I did."
Clearly, it worked. Jemison grew to be an assertive, high-achieving student that earned a scholarship to attend Stanford University at the tender age of 16. After earning a Bachelor's degree in science, Jemison also earned her doctorate in medicine at Cornell University in 1981. She managed to travel to Cuba, Kenya, Thailand throughout her studies. After a brief stint as a general practitioner after college, Jemison served in the Peace Corps as a medical officer, teacher and medical researcher from 1983 to 1985.
"You have to understand that you have the right to be involved, " Jemison once said. "The second thing is that you have something important to contribute. And the third piece is that you have to take the risk to contribute it."
Still, even with all of these achievements, Jemison knew that she still had to go after her ultimate dream—becoming an astronaut. "Growing up, I always assumed I was going into space. But I knew full well that people expected me to behave in a certain way. I bucked the system…I wanted to be in an environment that pushed me very hard."
Jemison pushed herself first, applying alongside 2, 000 other people to get a spot in a NASA training program. In 1987, Jemison was chosen with 14 other people. After five years of preparing for her voyage into space, Jemison boarded the Endeavor from September 12th to September 20th in 1992. She brought with her a Bundu statue, a poster of Judith Jamison and an Alpha Kappa Alpha flag for the journey. Jemison was 35-years-old.
"I believe that it was incumbent upon me when I went up into space to bring people with me who would not normally be included. These things were important because so many times people are left out."
Jemison later retired from NASA in 1993 but she continued her career with a determination to promote science literacy through entrepreneurial pursuits. The same year she formed the Jemison Group, a science research and marketing group that explores the union of science and technology into ordinary life. Jemison also led the BioSentient Corp. in 1999 to develop equipment that helped doctors reap information about their patients' nervous systems. Jemison's most recent endeavor is 100 Year Starship, a research group geared towards studying and inventing interstellar travel within the next century. It was founded in 2012.
Jemison has won a host of honors over the years, including a fellowship at Dartmouth, an honorary title with the Alphas and seemingly her favorite—a guest role on Star Trek back in 1993. She stresses the importance of living on your own terms to achieve success and fulfillment.
"Don't let anyone rob you of your imagination, your creativity, or your curiosity. It's your place in the world; it's your life. Go on and do all you can with it, and make it the life you want to live."
Source: hellobeautiful.com
Share this Post