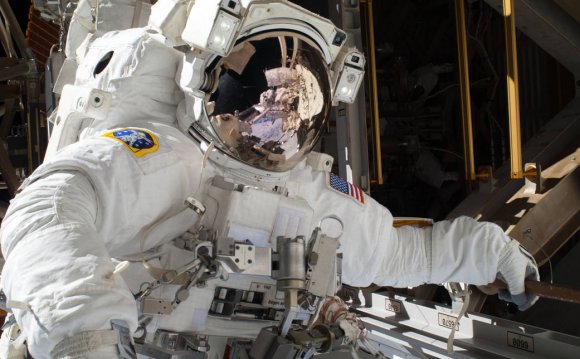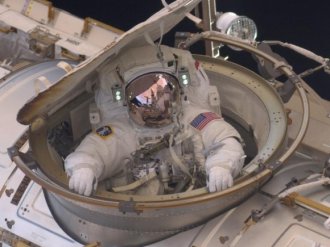 Astronaut Drew Feustel reenters the space station after completing an 8-hour, 7-minute spacewalk at on Sunday, May 22, 2011. He and fellow spacewalker Mike Fincke conducted the second of the four EVAs during the STS-134 mission. Credit: NASA
Talk about a high-flying career! Being a government astronaut means you have the chance to go into space and take part in some neat projects—such as going on spacewalks, moving robotic arms and doing science that researches the nature of the human body.
Behind the glamor and the giddiness of flight, however, astronauts also need to pay their bills on Earth. How much you get paid as an astronaut depends on what agency you work for – as well as your experience, just like any other career.
The information below for NASA, the European Space Agency (ESA) and the Canadian Space Agency (CSA) is current as of April 2014, unless otherwise noted. Three agencies do not disclose salary scales online, at least in English pages: the Japan Aerospace Exploration Agency (JAXA), the Russian Federal Space Agency (Roscosmos) and the China National Space Administration (CNSA).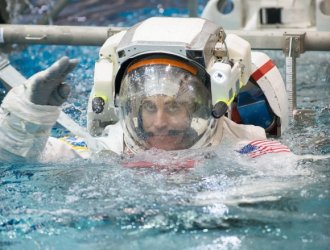 NASA has 43 active astronauts and eight astronauts-in-training who were selected in 2013. Until basic training is completed, which takes about two years, selectees are called "astronaut candidates". (Astronauts from other agencies, such as ESA and CSA, often join NASA selectees for basic training.) Then even after they're selected, it could be years more before they take a spaceflight.
Some astronauts are hired as civilian employees while others come over from the military. Civilian astronauts are paid according to a government scale that ranges from classifications GS-11 to GS-14.
In 2012, employees living in Houston (where astronaut training facilities are located) make a minimum of $64, 724 for a GS-11 to a maximum of $141, 715 for a GS-14. As employees pick up more qualifications, responsibility and experience, their salaries increase.
Military salaries were not disclosed, but NASA said those employees from the armed forces "remain in an active duty status for pay, benefits, leave, and other similar military matters."
European Space Agency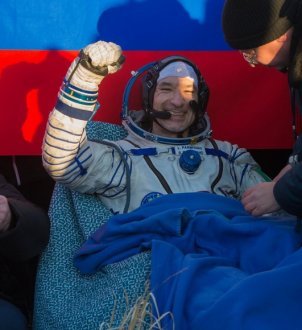 ESA's most recent astronaut class was selected in 2009. They have all either flown in space, or have been assigned to future missions aboard the International Space Station. Astronauts are paid between the A2 and A4 scales set by the Coordinated Organisations, a group of European intergovernmental groups.
Astronaut Chris Cassidy training for a spacewalk in NASA's Neutral Buoyancy Laboratory. Credit: Robert Markowitz
"Upon entering the ESA Astronaut Corps, new recruits will generally be paid at the A2 level. Following the successful completion of the basic astronaut training, the recruit will be paid in accordance with the grade A3. The promotion to the grade A4 generally follows after the first spaceflight, " the European Space Agency stated.
While ESA's website does not specify the salaries for astronauts beyond the grade, another Coordinated Organisation – called the North Atlantic Treaty Organisation – lists the annual A2 salary as 58, 848 Euros ($81, 404) and the A4 salary as 84, 372 Euros ($116, 619.)
Canadian Space Agency
Canada has two active astronauts, neither of which have been assigned to a spaceflight yet. The CSA does not disclose on its website how much astronauts make, but some information is available on the website of the Privy Council Office – an advisory group to Canada's prime minister and senior officials.
Documents indicate civilian astronauts are paid according to an Astronaut Salary Scale, ranging from Grade 1 to Grade 3.
See also:
Source: phys.org
RELATED VIDEO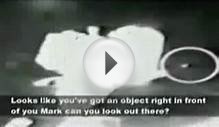 Astronauts do not see UFOs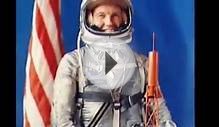 Astronauts and UFOs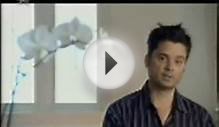 UFOs seen by NASA astronauts
Share this Post