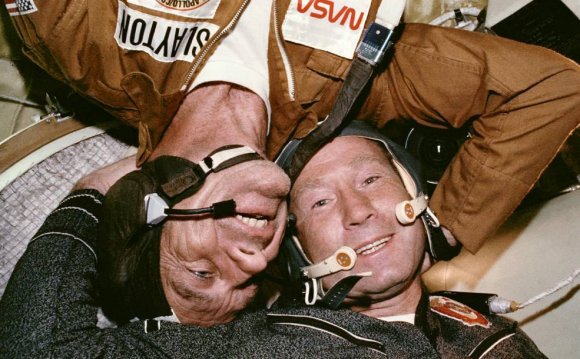 Donald K. Slayton, one of the original seven American astronauts and an influential manager in the space agency, died yesterday at his home in League City, Tex., near the Johnson Space Center in suburban Houston. He was 69. The cause of death was brain cancer, said Howard Benedict, executive director of the Mercury Seven Foundation.
Of the first astronauts, Mr. Slayton, known to everyone as Deke, made the least immediate impression on a public that for a time could not read or hear or see enough of these newly minted space celebrities. In part this was because a heart problem kept him out of space for years. But he was also naturally laconic and presented a stern-faced image in public to mask his impatience with just about anything that did not involve flying.
In truth, other astronauts and space officials say, Mr. Slayton probably exerted a greater influence on the American space program over a longer period than any other single astronaut. For years, as chief of flight operations at the Johnson Space Center, he directed astronaut training and selected the crews for nearly all missions, including the Apollo flights to the Moon. The Right Stuff
Christopher C. Kraft Jr., a former director of the Johnson center, said that Mr. Slayton "had the qualities you really wanted in the American astronaut of his time: he was a superb flyer, a good engineer and was cognizant of the importance of his position to the country, what he had to do and how he had to do it."
At the time of his death, Mr. Slayton was director of Space Services Inc., a pioneering company in the business of launching small satellites. He was a founder of the company when he retired from the National Aeronautics and Space Administration in 1982.
Donald Kent Slayton was born March 1, 1924, in Sparta, Wis.; he was one of seven children and grew up on the family's dairy farm. Upon graduation from high school in 1942, he entered the Air Force and flew 56 combat missions over Europe as a B-25 pilot and 7 over Japan.
After World War II, he earned a bachelor's degree in aeronautical engineering at the University of Minnesota and went to work at the Boeing Aircraft Corporation. With the outbreak of war in Korea in 1951, he was recalled to duty as a fighter pilot. Eventually he advanced to one of the choice roles in aviation, that of an experimental test pilot at Edwards Air Force Base in California. That was the finishing school for many future astronauts. Sputnik Surprise
Stunned by the Soviet Union's launching of the first artificial Earth satellite, Sputnik 1, in October 1957, the United States rushed to establish its own space program. Personifying this much-ballyhooed effort were the seven young military aviators selected in April 1959 to be the first astronauts.
They were called the Mercury Seven for the tiny one-person capsules they would begin flying in another two years, and they were immediately hailed as heroes.
No one was more uncomfortable with the sudden celebrity than Mr. Slayton, who looked upon it as something to be tolerated. "I just learned to cope with it, " he said years later.
Mr. Slayton was assigned to fly the second Mercury mission in orbit. Alan B. Shepard Jr. and Virgil I. Grissom had each made test flights in 1961, and the next February John H. Glenn Jr. had become the first American to orbit Earth. Then came the most bitter disappointment of Mr. Slayton's career.
Two months before his scheduled flight, doctors grounded Mr. Slayton because of an abnormal heartbeat caused by atrial fibrillation. His place on the flight in May 1962 was taken by Scott Carpenter. The two other Mercury astronauts, Walter M. Schirra Jr. and L. Gordon Cooper Jr., would get their flights, too, concluding the project the next May. Of the original seven, only Mr. Slayton never got a Mercury flight.
But he contributed significantly to the space program in a number of managerial positions, mainly directing astronaut training and selecting the crews for the subsequent Gemini and Apollo missions. Astronauts described him as "one hell of a leader, very quiet and very tough, " said Mr. Benedict, a former Associated Press space reporter who is now director of the Mercury Seven Foundation, which raises money for science scholarships. Mr. Slayton was vice president of the foundation. Battle With His Heart
Mr. Slayton tried everything to cure his heart problem, including dieting, exercising more, quitting smoking, giving up coffee and reducing alcohol consumption.
Then, in 1971, the heart problem went away just as mysteriously as it had appeared, in time for Mr. Slayton to qualify for the last available seat on the last Apollo mission. With two other Americans, Mr. Slayton flew the Apollo in July 1975 to a docking with a Soviet Soyuz spacecraft. The joint mission symbolized a passing thaw in American-Soviet relations.
Mr. Slayton returned to managerial duties with the space agency, directing early tests of the space shuttles. Perhaps it was age and the satisfaction of having had his flight in space, but Mr. Slayton seemed to shed his stone-faced reserve. A Lighter Outlook
Asked before one shuttle mission what the astronauts would be doing between then and the launching, a question that used to elicit a sober listing of flight plans to be studied and so forth, Mr. Slayton replied, "I think they'll be goofing off."
But when asked what might happen if one of the two solid-fuel boosters failed shortly after liftoff, he reverted to fatalism. "It'll be a bad day, " he said.
After retiring from NASA to go to work for Space Services, the first privately financed American space enterprise, he directed the Houston-based company's first launching of a dummy spacecraft, in September 1982. He became the company's president later that year.
Five of the original seven astronauts survive. Gus Grissom died in January 1967 when fire erupted in an Apollo spacecraft during a test on the launching pad. Mr. Glenn is a Democratic Senator from Ohio; Mr. Shepard, a Houston business executive; Mr. Schirra, an aerospace consultant in Rancho Santa Fe, Calif.; Mr. Carpenter, an author and aerospace consultant in Vail, Colo., and Mr. Cooper, chief executive of Galaxy Group Inc., a company in Van Nuys, Calif., that refurbishes airplanes.
Mr. Slayton was married in 1955 to Marjorie Lunney. They were divorced in 1983, and she has since died.
He is survived by his second wife, the former Bobbie Osborn, whom he married in 1983; a son, Kent, of Houston; two sisters, Marie Madsen and Beverly Schlenz, both of Madison, Wis.; two brothers, Dick, of Los Gatos, Calif., and Elwood, of Marshall, Wis., and two grandchildren.
Photos: Donald (Deke) Slayton, left, during his only mission in space, in which an Apollo and a Soviet Soyuz spacecraft docked in July 1975 . With him were Aleksei Leonov, center, and Thomas Stafford. (Associated Press); Mr. Slayton in front of a Saturn V rocket at the Johnson Space Center in Houston in 1990. (F. Carter Smith)
Source: www.nytimes.com
Share this Post