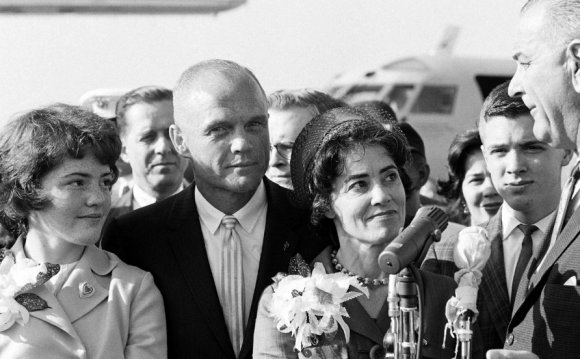 (1921 - )
Glenn's Early Years and Education
Senator John Herschel Glenn, Jr., Colonel, U.S. Marine Corps Retired, was born July 18, 1921, in Cambridge, Ohio. Before starting school, he moved with his parents, Mr. and Mrs. John H. Glenn, to New Concord, Ohio. After graduating from New Concord High School (which is now John Glenn High School), he enrolled in New Concord's Muskingum College. Glenn received his B.S. degree in engineering from Muskingum College which also awarded him an honorary doctor of science degree in engineering. He has received honorary doctor of engineering degrees from Nihon University in Tokyo, Japan, Wagner, and New Hampshire Colleges.
Glenn's War Years
In 1943 he enlisted in the Marine Corps and married Anna Margaret Castor, daughter of Dr. and Mrs. H. W. Castor of New Concord (Their wedding photo is shown to the right). He had already learned to fly at the nearby New Philadelphia airfield when he enlisted in the Naval Aviation Cadet Program in March, 1942. After training, Glenn joined Marine Fighter Squadron 155 and spent a year flying F4Us in the Marshall Islands in the South Pacific. During his World War II service, he flew 59 combat missions. After the war, he was a member of Fighter Squadron 218 on North China patrol and had duty in Guam.
From June 1948 to December 1950 Glenn was an instructor in advanced flight training at Corpus Christi, Texas. He then attended Amphibious Warfare Training at Quantico, Virginia. Glenn requested combat duty in the Korean conflict where he flew 63 missions with Marine Fighter Squadrons 311, and 27 while an exchange pilot with the Air Force in F-86 Sabrejets. In combat during the last nine days of fighting in Korea, Glenn downed three MIG's along the Yalu River. For his service in 149 missions in two wars, he received many honors, including the Distinguished Flying Cross (six occasions) and the Air Medal with eighteen clusters.
After Korea, Glenn attended Test Pilot School at the Naval Air Test Center, Patuxent River, Maryland. After graduation, he was project officer on a number of aircraft. He was assigned to the Fighter Design Branch of the Navy Bureau of Aeronautics (now Bureau of Naval Weapons) as a test pilot on Navy and Marine Corps jet fighters in Washington from November 1956 to April 1959, during which time he also attended the University of Maryland. In July 1957, while project officer of the F8U, he set a transcontinental speed record from Los Angeles to New York, spanning the country in 3 hours and 23 minutes. This was the first transcontinental flight to average supersonic speed.
Glenn has been awarded the Distinguished Flying Cross on five occasions, and holds the Air Medal with 18 Clusters for his service during World War II and Korea. Glenn also holds the Navy Unit Commendation for service in Korea, the Asiatic-Pacific Campaign Medal, the American Campaign Medal, the World War II Victory Medal, the China Service Medal, the National Defense Service Medal, the Korean Service Medal, the United Nations Service Medal, the Korean Presidential Unit Citation, the Navy's Astronaut Wings, the Marine Corps' new insignia (an Astronaut Medal), and the NASA Distinguished Service Medal.
Glenn is 5 feet 10-1/2 inches tall, weighs 168 pounds and has green eyes and red hair and he and his wife of 56 years have two children: John David, born December 13, 1945; and Carolyn Ann, born March 19, 1947 and now have two grandchildren.
Project Mercury
The Manned Space Program started in 1958 and in 1959 John Glenn was selected to be one of the first seven astronauts in project Mercury of the U.S. space program. Three years later, on February 20, 1962, he made history as the first American to orbit the earth, completing three orbits in a five-hour flight, for which he received the Space Congressional Medal of Honor.
The Mercury astronauts were introduced to the American public in April 1959. The seven criteria for selection were as follows: 1. less than 40 years old; 2. less than 5 foot 11 inches tall: 3. excellent physical condition; 4. bachelor's degree in engineering or equivalent; 5. test-pilot school graduate; 6. minimum of 1, 500 hours flying time; 7. qualified jet pilot. However, the process of choosing the first astronauts was elaborate and rigorous.
Once selected, the astronauts began their training program at Langley. This included a "little of everything" ranging from a graduate-level course in introductory space science to simulator training and scuba-diving. Training continued until the Langley Space Task Group was transferred to Houston, Texas. After the two years of training the astronauts(official NASA portait) were ready for space flight, but were delayed while equipment was developed.
Glenn made America's first orbital flight on February 20, 1962, in Friendship 7 piloting the Mercury-Atlas 6 "Friendship 7" spacecraft on the first manned orbital mission of the United States (SEE NASA SITE). Launched from Cape Canaveral (re-named Cape Kennedy), Florida, he completed a successful three-orbit mission around the earth, reaching a maximum altitude (apogee) of approximately 162 statute miles and an orbital velocity of approximately 17, 500 miles per hour. Glenn's "Friendship 7" Mercury spacecraft landed in an area in the Atlantic approximately 800 miles southeast of Cape Kennedy in the vicinity of Grand Turk Island. He landed 41 miles west and 19 miles north of the planned impact point. The time of the flight from launch to impact was 4 hours, 55 minutes, and 23 seconds. Prior to his flight, Glenn served as backup pilot for Astronauts Shepard and Grissom. Although he wanted to remain an active astronaut, President John Kennedy believed it was not in the country's interest to endanger a national hero and he was pulled from flight status. Glenn was considered too valuable to a country engulfed in the cold war, so he was not allowed to risk further space flights.
Source: www.muskingum.edu
Share this Post