John Herschel Glenn, Jr. (Colonel, USMC, Ret.)
NASA Astronaut (former)
PERSONAL DATA: Born July 18, 1921 in Cambridge, Ohio. Married to the former Anna Margaret Castor of New Concord, Ohio. They have two grown children and two grandchildren.
EDUCATION: Glenn attended primary and secondary schools in New Concord, Ohio. He attended Muskingum College in New Concord and received a Bachelor of Science degree in Engineering. Muskingum College also awarded him an honorary Doctor of Science degree in engineering. He has received honorary doctoral degrees from nine colleges or universities.
SPECIAL HONORS: Glenn has been awarded the Distinguished Flying Cross on six occasions, and holds the Air Medal with 18 Clusters for his service during World War II and Korea. Glenn also holds the Navy Unit Commendation for service in Korea, the Asiatic-Pacific Campaign Medal, the American Campaign Medal, the World War II Victory Medal, the China Service Medal, the National Defense Service Medal, the Korean Service Medal, the United Nations Service Medal, the Korean Presidential Unit Citation, the Navy's Astronaut Wings, the Marine Corps' Astronaut Medal, the NASA Distinguished Service Medal, and the Congressional Space Medal of Honor.
EXPERIENCE: He entered the Naval Aviation Cadet Program in March 1942 and was graduated from this program and commissioned in the Marine Corps in 1943. After advanced training, he joined Marine Fighter Squadron 155 and spent a year flying F-4U fighters in the Marshall Islands.
During his World War II service, he flew 59 combat missions. After the war, he was a member of Marine Fighter Squadron 218 on the North China patrol and served on Guam. From June 1948 to December 1950 Glenn was an instructor in advanced flight training at Corpus Christi, Texas. He then attended Amphibious Warfare Training at Quantico, Virginia. In Korea he flew 63 missions with Marine Fighter Squadron 311. As an exchange pilot with the Air Force Glenn flew 27 missions in the in F-86 Sabrejet. In the last nine days of fighting in Korea Glenn downed three MIG's in combat along the Yalu River.
After Korea, Glenn attended Test Pilot School at the Naval Air Test Center, Patuxent River, Maryland. After graduation, he was project officer on a number of aircraft. He was assigned to the Fighter Design Branch of the Navy Bureau of Aeronautics (now Bureau of Naval Weapons) in Washington from November 1956 to April 1959, during which time he also attended the University of Maryland.
Source: www.jsc.nasa.gov
RELATED VIDEO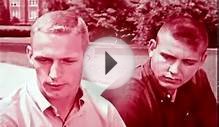 F-0050 The John Glenn Story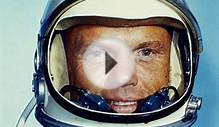 John Glenn - Astronaut, Military Leader, Pilot, U.S. Senator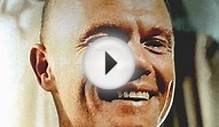 John Glenn
Share this Post